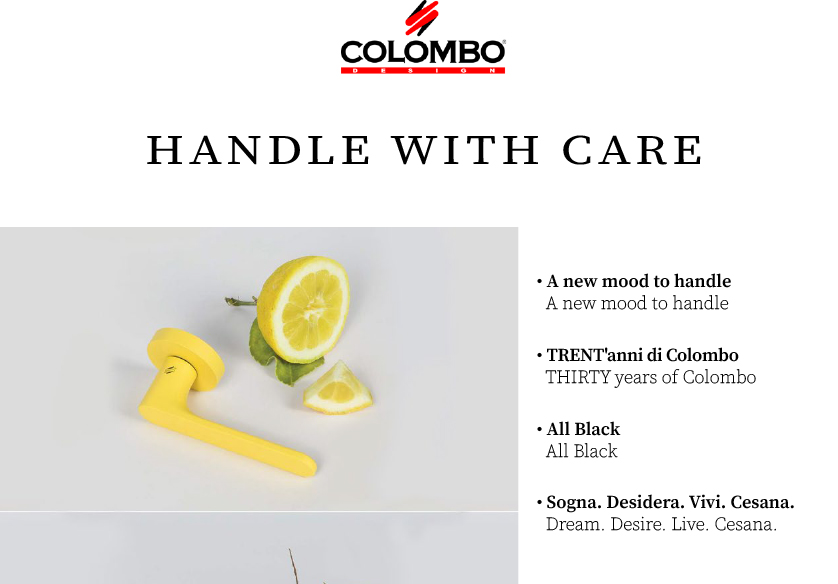 HANDLE WITH CARE 05/2021
Trust, this is the watchword with which we at Colombo Design have chosen to look at 2021.
Confidence in this new phase of reopening and restarting, which has made us more determined than ever to move on.
Trust in a future that has restarted flowing and that we are planning once again, with constancy and tenacity: qualities that together with creativity and passion have always characterized our reality.
Values we wanted to instill in one of the most ambitious recent projects, the MOOD collection, an absolute novelty in our production, which emphasizes the positivity which we want to have around us through the inclusion of an unprecedented and varied range of shades.
A whirlwind of sensations and suggestive atmospheres where color is the absolute protagonist, in which every color has a meaning and is ideally connected to the main stages of our evolution: it is our way of celebrating 30 years of Colombo Design.
What for us represents an important milestone has also inspired the name of the new TRENTA bathroom accessories collection, which we present in these pages, designed by Luca Colombo in collaboration with Pio and Tito Toso.
Among the novelties our FORMAE collection now also available in Matt Black finish and the recent custom solutions by Cesana, an eclectic proposal for a refined wellness, with an allItalian imprint.
Michele Colombo – President
Among the topics covered in this edition you can find:
Mood Collection: a new way of presenting and interpreting the handle
Trenta Collection: the bathroom accessories line that celebrates the years of Colombo Design
The new 2021 price list updated with a new graphic look
Dream. Wish.Live. Cesana. The new campaign inspired by a new way of narrating the bathroom
Click and browse the new issue of "Handle with care": the Colombo Group's magazine edition 05/2021