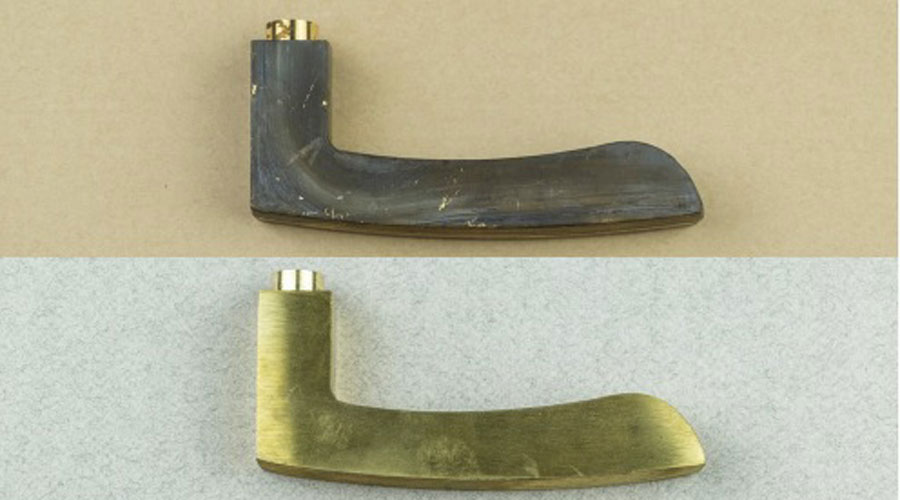 Innovation: the flagship of Colombo Design company
Nuovi processi danno vita a finiture esclusive e resistenti nel tempo
Non è facile, impugnando una maniglia, cogliere le complessità che portano a realizzare un prodotto con cui ci relazioniamo decine o centinaia di volte al giorno, che fa parte della nostra quotidianeità.
It's not easy, while holding an handle, grasp the complexity that lead to create a product with which we relate tens or hundreds of times a day, which is part of our daily lives.
The needed steps that lead the production of this object are numerous and require advanced technologies.
The Colombo Design finishes, flagship of the company's production, are the result of rigorous reserach and constant quality control.
In addition to the traditional galvanic department, the company also has an exclusive HPS treatment system that (High Protection System) uses the processing process called PVD (Physical Vapor Deposit), whose protective features against atmospheric agents guarantee brightness and resistance to corrosion over time.
The HPS process is the last of numerous galvanic treatments, preceded by accurated production steps that start from the piece in its raw state:
chromium plating and PVD process
After some mechanical production phases, the Colombo Design handles and bathroom accessories undergo some specific galvanic treatments that depends on the finishes selected by the customer:
first electroplated copper layer
second electroplated copper layer
very high electroplated nickel levelling layer
electroplated chrome  layer
PVD  process (only for specific finishes)
The Colombo Design finishes involved with the PVD process (with a 30 years guarantee) are as follows:
Zirconium stainless-steel HPS
Grafite – Grafite Mat
Vintage – Vintage Mat
The last ones have been included into Colombo Design range of finishes to satisfy the more and more requests of the market and the last interior design trends.
Colombo Design catalogue offers six handles available in Graphite and Matt Graphite finishes:
Ama handle – Alba handle – Elle handle – Ellesse handle – Lund handle- RobocinqueS handle
Colombo Design catalogue offers five handles available in Vintage  and Matt Vintage finishes:
Electra handle – Fedra handle – Gira handle – Viola handle  – RoboquattroS handle