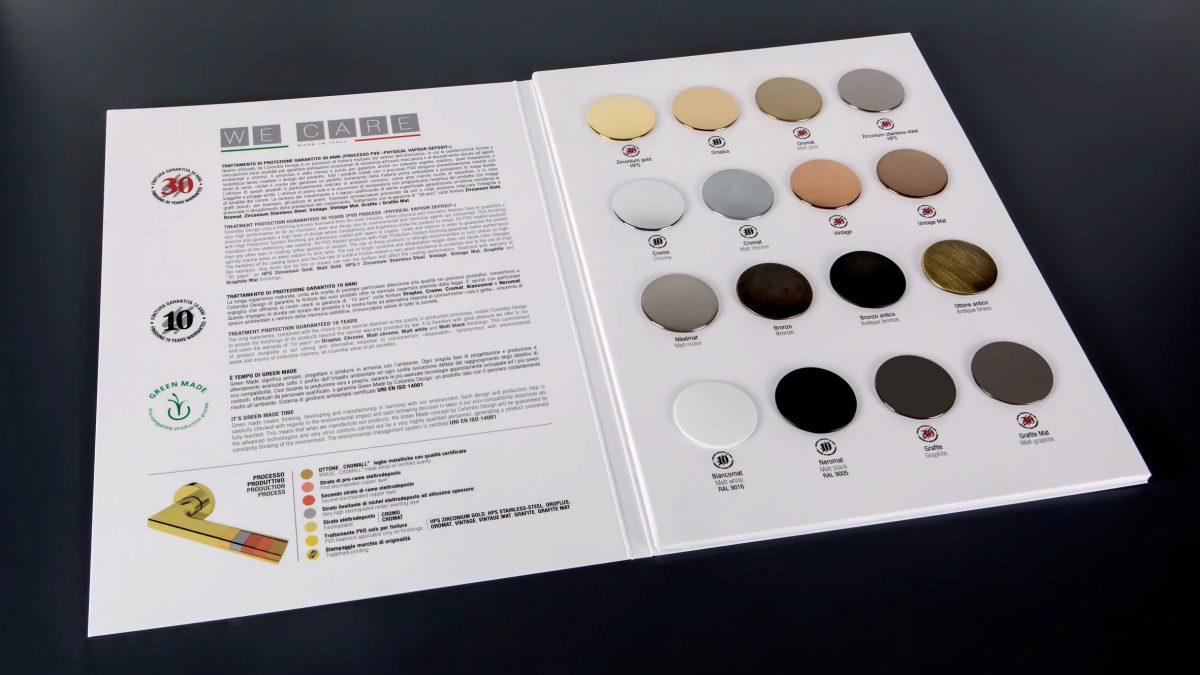 Our products' finishes
The new Colombo Design finishes chart
Color finishes are one of the strengths of Colombo Design's production. Starting from a rigorous research within the most innovative trends in the sectors of interior design and architecture, the company selects and start producing the new finishes by choosing on which handles and bathroom accessories collections apply them.
Colombo Design offers sixteen finishes that correspond to sixteen color shades chosen to satisfy the aesthetic tastes of each customer.
The demand for handles and bathroom accessories which, through their design and the chosen finish can enhance the environment in which they are inserted, is increasingly important and high and has the purpose to integrate harmoniously these accessories with different styles of furniture.
These are the sixteen finishes proposed:
Zirconium Gold HPS – PVD finish
Zirconium Stainless-Steel HPS – PVD Finish
Oroplus – PVD finish
Matt gold – PVD finish
Bronze
Ancient bronze
Antique brass
Vintage – PVD finish
Matt Vintage – PVD finish
Chrome
Matt chrome
Nickelmat
Graphite – PVD finish
Matt graphite – PVD finish
Matt Black- RAL 9005
Matt White – RAL 9016
all collected in a brand new finish folder: a useful sample book to see and touch every single shade of color, facilitating the selection process especially when the need arises to coordinate a bathroom accessory with the taps and the shower profiles.