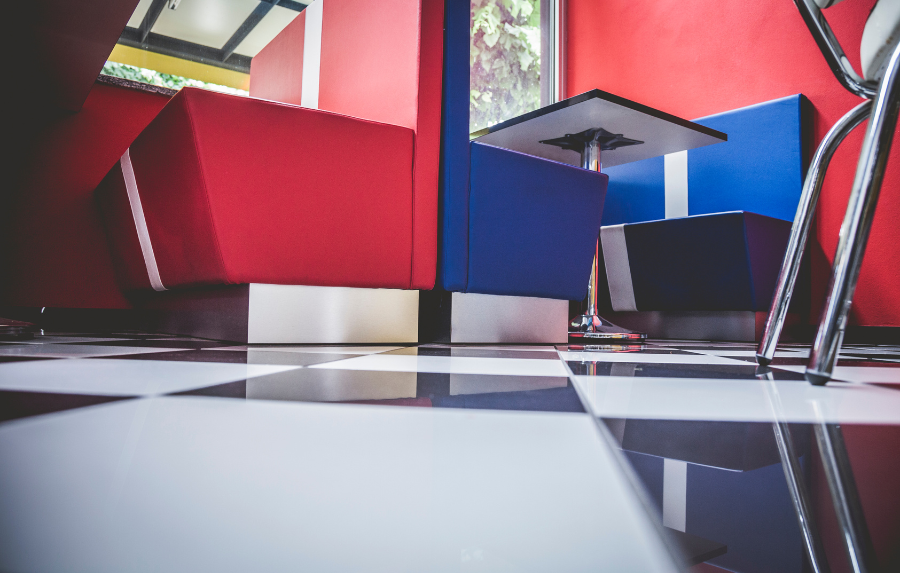 Throwback: il Design ritorna al passato
Design only reappears over time with some details more akin to the contemporary era.
"Good design is visually powerful, intellectually elegant and, above all, timeless – Massimo Vignelli".
That of Massimo Vignelli, we could almost call it an "eclectic" quotation, since design does not only pursue an "artistic current", but ranges from one style to another, re-proposing itself over time.
Have you ever noticed how design and fashion recur over the decades and how they have renewed themselves? Have you ever noticed how these two sectors complement each other?
Today we have decided to take you back in time; to the vintage, kitschy, ostentatious period of exaggeration: we are talking about the ʻ50s!
This historical era has only been taken up again, with some reinterpretation, in recent years by correlating two historical moments: the post-war ʻ50s' and the post-pandemic years 2020-2022. An almost paradoxical marketing strategy!
AESTHETICS AND FUNCTIONALITY
"Recognising need is the primary condition of design – Charles Eames".
The 1950s home atmosphere is reflected in today's retro minimalist style: a perfect mix of aesthetics and functionality; in short, a revolution that is reflected in people's everyday lives.
If you think about it, we also find this 'revolution' in the contemporary era; every individual spends most of their time outside the home (mainly for work). The return to the domestic environment therefore requires, in addition to aesthetic essence, comfort, cosiness and practicality.
In those years, however, practicality was linked to the invention of household appliances; a much-appreciated aid to household chores by housewives.
SHAPES AND COLOURS
Although linked to older traditions, 1950s furnishing slightly changes its shapes and colours.
The furniture is harmonious, simple, characterised by sinuous, multifaceted lines with almost no noticeable edges; while the colours vary from natural shades (wood, white, beige) to brighter splashes of colour (such as ruby red) and pastels (such as sage green, saffron yellow, blue, sugar paper, pink). A bit like the Trenta Mood Collection bathroom accessories and Mood coloured handles suggest.
COMPLEMENTS AND ACCESSORIES
Among the various ʻ50s complements' are floor lamps, sideboards and bedside tables with visible legs (wood or chrome metal), living room tables strictly low and with flared legs, bookcases with slender lines and sofas with curved, wrap-around lines to name but a few.
There is no lack of accessories, especially in wicker, such as baskets or armchairs. Today we find this type of material especially for boho-style laundry baskets or for floor-standing or suspended outdoor and indoor 'semi-spherical' armchairs.
COVERINGS
If shapes and colours, complements and accessories seemed close to kitsch to you, think of the wall coverings: a mix of extravagance and originality!
The geometric alternation of black and white tiles for walls and floors (especially in the kitchen) or even wallpaper (easy to apply) with floral prints, bucolic images or geometric shapes was strictly in use.
MATERIALS
The materials used in those years are very diverse; the one par excellence (certainly an evergreen) always remains wood in natural or light shades.
In the 1950s, the use of shiny metals, such as stainless steel, was also a classic. This material was especially used in furniture or accessory finishes (table legs, floor lamp, handles and bathroom accessories). Today, Colombo Design includes PVD finishes in its collections with an articulate and classy dip into the past.
Another 'special' material was wicker, a material also present in the modern era. The home is enriched with magazine baskets, linen holders, armchairs or chairs.
Foam is certainly not to be missed. Cushions and sofas are padded for a cosy and comfortable feeling.
Last but not least, we find the plastic element. Oh yes, the controversial and famous plastic, so hated in recent years! At that time, however, it was a cheap and practical material that defined the innovative boom of many industries.