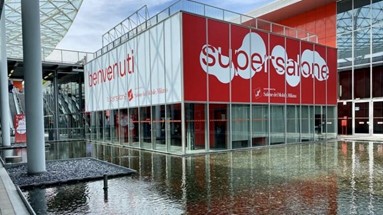 SUSTAINABILITY AT SUPERSALONE 2021: GREEN IS THE KEY
Supersalone del Mobile Milano 2021 has recently ended, followed by Fuorisalone. It is back after a year and a half and only seven months before 2022 edition. This year the key word was sustainability, in all its forms. Value fully shared by our company and that we are committed to carry on for years, even confirmed by Green Made certification and Company's Environmental Policy.
The green commitment is evident starting with the set-up of the event: trees that guide for the entire duration of the journey, that will be planted in the metropolitan city by 2030 and recyclable wooden walls to substitute traditional stands.
Sustainability goal
The goal was to create a temporary exhibition where no material was wasted, rather disassembled and recycled, to have a lowest possible environmental impact. Many, in fact, are the architects who presented products entirely made with recycled materials. Stefan Diez with Costume collection of modular sofas and Moroso with Secret Cubic Shelves bookcase are just some examples.
Even for what concerns Fuorisalone we can say that the art of design and the sustainability mantra were preferred over the pure design of the product. The aim was to create solutions that could marry perfectly with pandemic needs, so as comfortable as possible, since the house is back to being, with remote working, at the center of people's lives.
Sustainability: advantages
Supersalone develops on the model of circular economy where production and consume imply re-use, reconditioning and recycling of materials and existing products, to extend their life cycle and create more value. We are talking about a model that doesn't bring only environmental advantages, but also business benefits. That could be to:
increase the value of the product offered
reduce production costs
improve the competitiveness
obtain tax benefits
enter in new market.
Even Colombo Design, in fact, uses this practice in different processes such as search for raw materials, recycling, production, disposal and design.
Another must, because of the pandemic outbreak, is the sanitization against virus, germs and bacteria. As proof of this, many were the companies that gave as a gadget of the event hand sanitizers.
Sustainability in Colombo Design
Colombo Design, to keep itself up to date with the needs of the period, offers a certified anti-bacterial coating Safe Touch on request for every product and finishes in the catalogue. It has a very powerful action which allows to eliminate up to 99.9% of the bacteria; to guarantee protection 24 hours a day with and without sunlight, thanks to a technology based on the use of titanium dioxide; and eternal effectiveness, thanks to silver ions, permanently integrated at the time of the production.
Antibacterial treatments like this can be made on every type of surface (porcelain, stone, wood, marble, or chrome effect) and in every living environment.
So, we can say that green and sustainability played an important role here too and we are very delighted about this. Preserving the resources of our planet is essential, given their exhaustibility.
What do you think about? Leave a comment or send us an e-mail.
Tags In